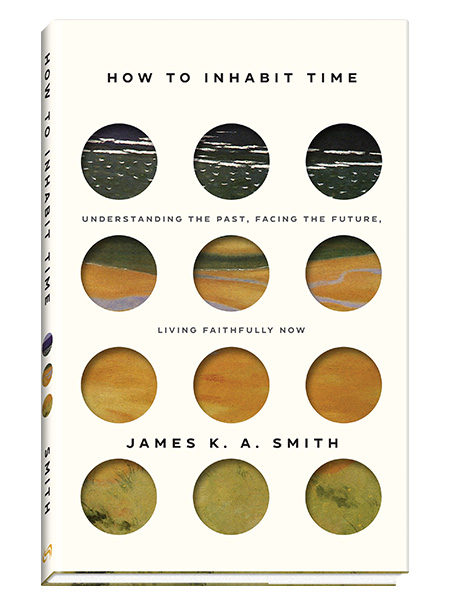 How to Inhabit Time
Understanding the Past, Facing the Future, Living Faithfully NOW
Many Christians are disconnected from the past or imagine they are "above" history, immune to it, as if self-starters from clean slates in every generation. They suffer from a lack of awareness of time and the effects of history—both personal and collective—and thus are naive about current issues and fixated on the end times.
Popular speaker and award-winning author James K. A. Smith shows that awakening to the spiritual significance of time is crucial for orienting faith in the 21st century. He encourages us to cultivate the spiritual discipline of memento tempori, a temporal awareness of the Spirit's presence—indebted to a past, oriented toward the future, and faithful in the present. To gain spiritual appreciation for our mortality. To synchronize our heart-clocks with the tempo of the Spirit, which changes in the different seasons of life. Integrating popular culture, biblical exposition, and meditation, Smith provides insights for pastoring, counseling, spiritual formation, politics, and public life.
Praise for How to Inhabit Time
"Annie Dillard memorably wrote, 'How we spend our days is, of course, how we spend our lives.' There is only the particular. And the Christian faith gives us a distinct place to stand in the present, formed by a specific history and drawn by the eschatological Spirit into God's future. Yet, as James Smith shows, often proponents of the very faith, which should locate us most clearly in God's time, settle for the parody—'nowhen' Christians. This book has helped me—genuinely. James Smith has helped me think about the subject of time in a fresh way. I greatly enjoyed the distilled wisdom, the broad philosophical engagement, the connecting of Scripture, tradition, and culture. Truly this book is a gift which has engaged my awareness of how we are called to live the gifts which are our lives. My hope and prayer is that the impact of this book on how we live—on the times of our lives—will be exponentially more than the time it took to read it."—The Most Rev. Justin Welby, Archbishop of Canterbury
---
"'A life is always a lifetime, and ours is a time of toil,' writes James K. A. Smith. But he shows us that time is more than toil. It is a gift waiting to be redeemed, and a central conviction of this book is that 'the Lord of the star fields' is intimately attuned to our haunted, beautiful histories. Dwelling with these lucid, winsome meditations on 'spiritual timekeeping' was like listening in on a lively conversation between St. Augustine, Gustavo Gutiérrez, James Baldwin, and Marilynne Robinson, while Pink Floyd's Dark Side of the Moon played in the background."—Fred Bahnson, author of Soil and Sacrament
---
"James K. A. Smith's inspired work examines time not as hourglass sand running hopelessly through our fingers but as a divine gift that we can capture just enough to recognize the pearl of life that time shapes. A thoughtful and engaging book."—Sophfronia Scott, author of The Seeker and the Monk: Everyday Conversations with Thomas Merton
---
"In this arresting and elegant book, Jamie Smith gives us a profound and beguiling meditation on time (and therefore death), on embodiment (and therefore love), on creaturehood (and therefore our orientation toward God). Philosophically rigorous and creatively daring, this original and provocative exploration summons each of us to diligent thinking and unflinching honesty, to (in Smith's own phrase) 'shared vulnerability' and deep prayer."—Charles Marsh, Commonwealth Professor of Religious Studies, University of Virginia; author of Strange Glory: A Life of Dietrich Bonhoeffer
---
"In How to Inhabit Time, James K. A. Smith makes of his boundless knowledge and crystalline thinking a most evocative/provocative succession of scenes—a sensuous narrative that asks us to recalibrate our idea of time so that we might carry ourselves, with grace and gratitude, through it."—Beth Kephart, author of Wife | Daughter | Self: A Memoir in Essays
---
"James K. A. Smith draws from biblical, philosophical, and therapeutic insights to weave our lives into a wondrous drama far greater than can be found in the fleeting and distracting present tense. Along the way he courageously tells his own story of finding hope for the future by reckoning with his past, our past, and God's redemptive event that is still unfolding."—M. Craig Barnes, president, Princeton Theological Seminary
---
"Jamie Smith is a crucial philosopher and theologian. In a time of frightening upheaval over the nature of identity, we dearly need this wise and winsome book about how to inhabit time well. Listen to Smith unpack a song, a poem, a passage from Ecclesiastes, or a philosopher's lifework, and come away challenged, changed, and delighted."—Jason Byassee, Vancouver School of Theology
About James K. A. Smith
James K. A. Smith is professor of philosophy at Calvin University and serves as editor in chief of Image journal, a quarterly devoted to "art, mystery, and faith." Trained as a philosopher with a focus on contemporary French thought, Smith has expanded on that scholarly platform to become an engaged public intellectual and cultural critic. An award-winning author and widely traveled speaker, he has emerged as a thought leader with a unique gift of translation, building bridges between the academy, society, and the church.